News from the website (Reporter Liu Chunmeng) From October 12 to 13, 2021, the "2021 The 6th Automotive Intelligent Seat Innovation Technology Summit" hosted by the ATC Automotive Technology Conference was opened in Shanghai. Focusing on the themes of "Intelligence", "Comfort" and "Green and Low Carbon", the conference has attracted more than 300 excellent experts in the automotive seat industry from major OEMs, seat manufacturers, interior materials and other enterprises to attend. During the conference, Liu Xin and Sha Pengyu, two experts from FAWSN cockpit system division, gave wonderful speeches.
Mr. Liu Xin, the chief expert of the cockpit division of FAWSN Group and the chief expert of FAWSN Lear Seating Company, presided over the roundtable conference on the morning of October 12. Meanwhile, he jointly discussed with several industry experts on several topics of the development trend of car seats and comfort research, which not only promoted comprehensive exchanges among industry elites, and also aroused deep thinking and intense discussions among the audience. In the afternoon, Mr. Liu Xin gave a wonderful speech on the topic of "Discussion on the Development Trend of Intelligent Seats". He summarized the past development trend of car seats and explored the application scenarios of intelligent seats. Mr. Liu said that in the long term, car seats should consider the application requirements of the fully automated driving era. However, in the short term, they still need to be upgraded gradually.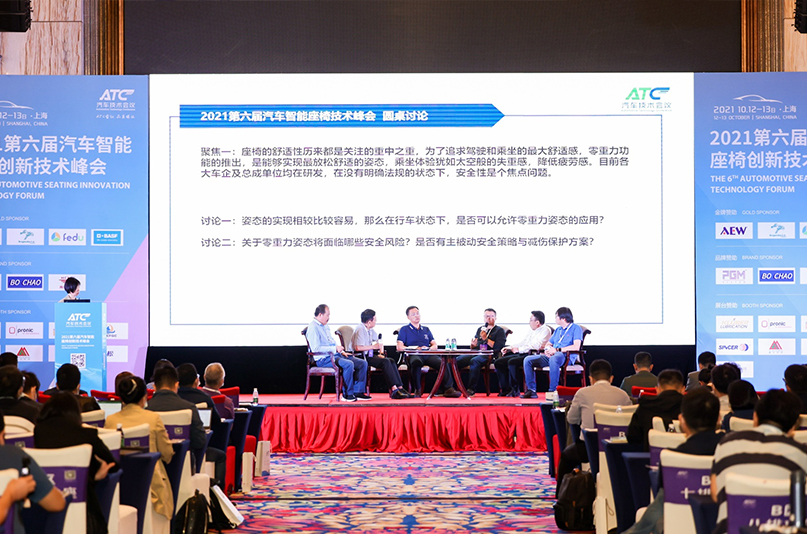 (Mr. Liu Xin presided over the round table conference.)
Dr. Sha Pengyu, Manager of the seat basic development department and foaming expert of FAWSN Lear, gave a speech on the topic of "Yesterday, Today and Tomorrow-Foam Development History and Future Road of Car Seat". Dr. Sha showed the development of car seat filling materials in a relaxed and humorous way, including natural coconut palm materials, latex, hot-cured polyurethane foam to today's cold-cured foam and other technological developments, so that the participants learned about the innovation process of filling materials from different angles. In addition, Dr. Sha gave a compressive explanation of the current polyurethane foaming performance, and proposed improvement plans for the VOC, odor and other properties that the OEM is concerned about. Finally, Dr. Sha had an exchange with participants on his future research direction of polyurethane foaming.
The participants gave warm applause to the contents shared by two experts, and there was a profound discussion during and after the conference. The wonderful speeches, original views and innovative ideas of the two experts have played a positive role in promoting the development of the automobile industry and improving the influence of the company. FAWSN cockpit system business department will continue to uphold the spirit of innovation, explore advanced technology and strive to be the pioneer of industry in the future!